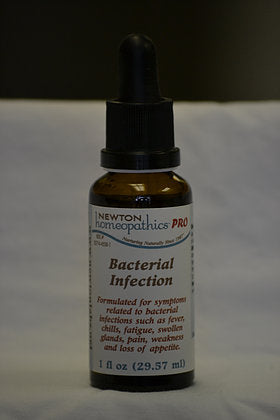 Homeopathic bacterial remedy with custom imprint available.

Formulated for symptoms related to bacterial infections such as fever, chills, fatigue, swollen glands, pain, weakness and loss of appetite.

Active ingredients:
Anthrocinum 30x, Pyrogenium 30x, Aconitum nap 15x, Arnica 15x, Arsenicum alb 15x, Baptisia 15x, Bryonia 15x, Hydrastis 15x, Iodium 15x, Lachesis 15x, Nux vom 15x, Phosphorus 15x, Pulsatilla 15x, Rhus toxicodendron 15x, Echinacea 3x, Hydrastis 3x, Iris versicolor 3x, Urtica ur. 3x

Liquid Inactive Ingredients:
USP Purified water; USP Gluten-free, non-GMO,
organic cane dispensing alcohol 20%
Statements about products on this website have not been evaluated by the Food and Drug Administration. These products are not intended to diagnose, treat, cure or prevent any disease.