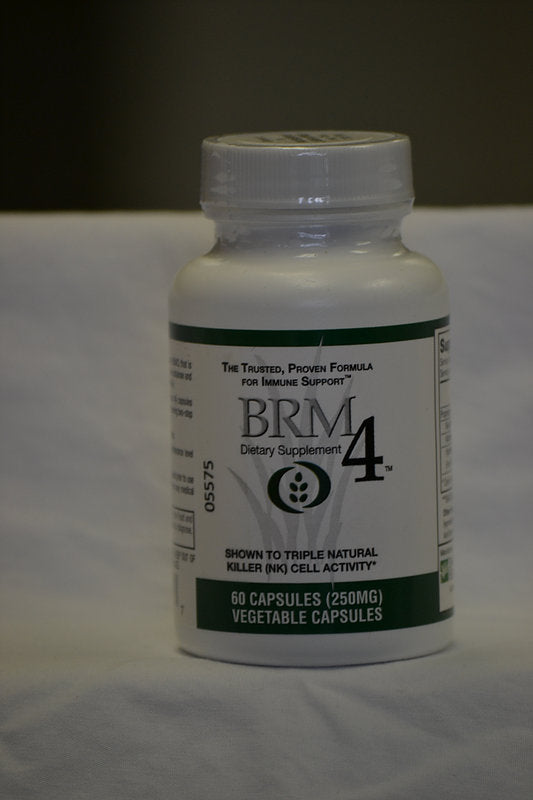 BRM4 has been clinically shown to support natural killer (NK) cell activity.

Research indicates that BRM4 supports the body's natural production of cytokynes (interferon and interleukins).* BRM4 also supports the activity of lymphocytes.
Serving Size: 4 Capsule
    
Servings Per Container: 15
    
Amount Per Serving:
    
Total Fat             0.5 g
Saturated Fat             0 g
Total Carbohydrate          less than 2 g
Sugars              0 g
Dietary Fiber              less than 1 g
Protein               0 g
Proprietary RBAC** Blend     1000 mg
Rice Bran
Hyphomycetes Mycelia Extract (From Shiitake Mushroom)

Other ingredients:
Microcrystalline Cellulose, Hypromellose, Sucrose Fatty Acid Ester, Silica, Gellan Gum, Potassium Acetate
Suggested Use: As a dietary supplement take four (4) capsules before or after a meal.
For best results, the following two-step program is recommended:

Step 1: Take 4 capsules 3 times per day for 4 weeks.
Step 2: After 4 weeks, reduce dosage to the maintenance level of 4 capsules daily.

WARNING: Consult with your health care professional prior to use if you are pregnant, nursing, are being treated for any medical condition, or are taking any medication.

DO NOT USE IF SEAL IS BROKEN OR MISSING.

KEEP OUT OF REACH OF CHILDREN. STORE IN A COOL, DRY PLACE.
BRM4 contains Rice Bran Arabinoxylan Compound (RBAC) that is produced by a patented process using rice bran hemicellulose and shiitake mushroom mycelia. U.S. Patent No. 5560914.
Statements about products on this website have not been evaluated by the Food and Drug Administration. These products are not intended to diagnose, treat, cure or prevent any disease.