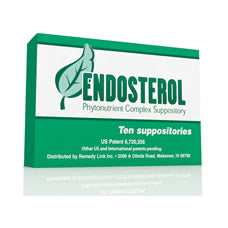 Endosterol Suppositories

State of the art prostate support. Endosterol contains beta-sitosterol, saw palmetto, pumpkin seed, dandelion, ellagic acid and Mg Di-K EDTA. Beta sitosterol is both an aromatase and 5-alpha reductase inhibitor thus decreasing the conversion of testosterone to both estrogen and Di-hydro testosterone. Ellagic acid may support apoptosis in prostates with pathological changes. Due to the rectum's immediate proximity to the prostate, Endosterol may deliver its benefits much more efficiently than oral preparations.
While saw palmetto is well known for its beneficial effects on the prostate, it also has a long history of being used for female disorders. Saw palmetto may support women's bodies in with issues associated with fertility, milk flow, libido, menstrual irregularities, fluid retention and pelvic inflammation.
Directions:

Refrigerate before using.
For rectal use only.
Use following a bowel movement.
To remove suppository, tear the plastic shell lengthwise beginning at the V shaped cut at the pointed end of the suppository.
Apply a light coating of Vaseline to the suppository before insertion.
Insert suppository past sphincter muscle.
Try to wait 15 to 20 minutes before another bowel movement.
Broken suppositories may be reheated in their shells in a ziplock bag in warm water until melted and then reformed in refrigerator.
Occasional air bubbles in suppository are normal and do not indicate a loss of product.
Warnings:
If pregnant or lactating, consult your physician before taking this product
Keep out of reach of children
Do not exceed recommended dose
Do not use if the suppositories are open or damaged.
Statements about products on this website have not been evaluated by the Food and Drug Administration. These products are not intended to diagnose, treat, cure or prevent any disease.