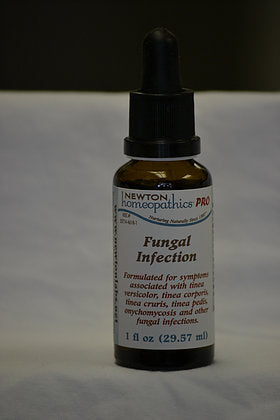 Homeopathic fungus remedy with custom imprint available.
Formulated for symptoms associated with candida, tinea versicolor, tinea corporis, tinea cruris, tinea pedis, onychomycosis and other fungal infections.

Active Ingredients:
Candida albicans 15x, Sanicula 15x, Tellurium metallicum 15x, Torula cerevisiae 15x, Antimonium crudum 10x, Arsenicum album 10x, Baryta carbonica 10x, Bryonia 10x, Calcarea carbonica 10x, Carbo vegetabilis 10x, Cuprum metallicum 10x, Dulcamara 10x, Graphites 10x, Kali carbonicum 10x, Lachesis mutus 10x, Lycopodium clavatum 10x, Mezereum 10x, Nitricum acidum 10x, Phosphorus 10x, Phytolacca decandra 10x, Sepia 10x, Silicea 10x, Sulphur 10x, Sulphuricum acidum 10x, Zincum metallicum 10x, Apis mellifica 3x, Phytolacca decandra 3x, Thuja occidentalis 3x.

Liquid Inactive Ingredients: USP Purified water; USP Gluten-free, non-GMO, organic cane dispensing alcohol 20%.
Statements about products on this website have not been evaluated by the Food and Drug Administration. These products are not intended to diagnose, treat, cure or prevent any disease.