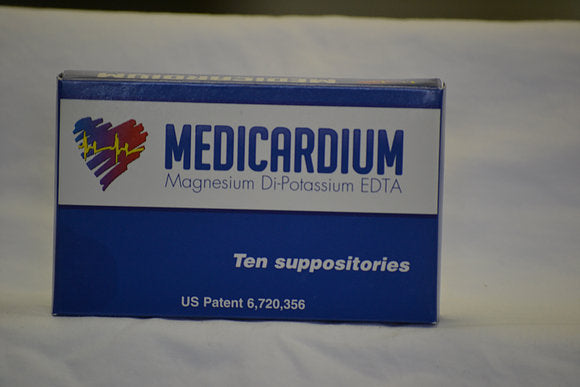 Medicardium EDTA Suppositories
If you are looking for the benefits of EDTA, consider suppository Magnesium Di-Potassium EDTA. EDTA has been used for over 50 years to support the body's detoxification of metals like mercury, lead, aluminum, arsenic, cadmium, uranium and nickel.

While orally delivered EDTA is only 5% absorbed due to the effects of the digestive acids, enzymes and foodstuffs on EDTA, suppository EDTA has no such limitation.

In addition, being calcium free, Magnesium Di-Potassium EDTA may also support the body in the mobilization of soft tissue dystrophic calcium.

Supplement Facts:
Serving Size: 1 suppository            Servings Per Container: 10

Amount Per Serving:
*Magnesium Di-Potassium EDTA 365 mg

Suppository Base: Cocoa Butter, White Wax.

Dosage and Use:
If the client is in good health currently, he or she can take one suppository every third day, (one box a month).
If the client needs to resolve an immediate crisis (diabetic leg ulcers) or is in pain (fibromyalgia) you may wish to have them take the product every day for a period of time. This will accelerate the effect. When the immediate situation resolves, the client can go to 'protocol one' for maintenance.
If the client is in immediate life threatening danger (impending coronary) or is about to lose a limb (diabetic complications) you may wish to use the product as often as twice or three times a day for a few days.
Directions:
Refrigerate before using.
For rectal use only.
Use following a bowel movement.
To remove suppository, tear the plastic shell lengthwise beginning at the V shaped cut at the pointed end of the suppository.
Apply a light coating of Vaseline to the suppository before insertion.
Insert suppository past sphincter muscle.
Try to wait 15 to 20 minutes before another bowel movement.
Broken suppositories may be reheated in their shells in a ziplock bag in warm water until melted and then reformed in refrigerator.
Occasional air bubbles in suppository are normal and do not indicate a loss of product.
Warnings:
If pregnant or lactating, consult your physician before taking this product
Keep out of reach of children
Do not exceed recommended dose
Do not use if the suppositories are open or damaged.
Statements about products on this website have not been evaluated by the Food and Drug Administration. These products are not intended to diagnose, treat, cure or prevent any disease.