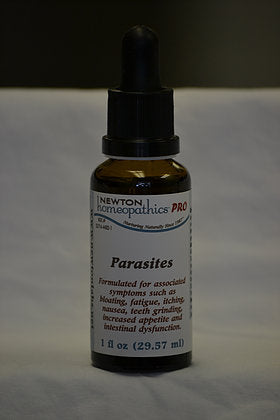 Homeopathic parasite remedy with custom imprint available.
Formulated for associated symptoms such as bloating, fatigue, nausea, teeth grinding, increased appetite and intestinal dysfunction.

Active Ingredients:
Abrotanum 15x, Aesculus hippocastanum 15x, Allium sativum 15x, Arsenicum album 15x, Artemisia vulgaris 15x, Baptisia tinctoria 15x, Cina 15x, Cuprum metallicum 15x, Filix mas 15x, Granatum 15x, Ipecacuanha 15x, Lachesis mutus 15x, Lycopodium clavatum 15x, Mercurius vivus 15x, Naphthalinum 15x, Natrum muriaticum 15x, Nux vomica 15x, Pulsatilla 15x, Ratanhia 15x, Ruta graveolens 15x, Sabadilla 15x, Santoninum 15x, Silicea 15x, Spigelia anthelmia 15x, Terebinthina 15x, Teucrium marum 15x, Thymolum 15x, Zingiber officinale 15x, Juglans regia 3x.

Liquid Inactive Ingredients:
USP Purified water; USP Gluten-free, non-GMO, organic cane dispensing alcohol 20%.

Statements about products on this website have not been evaluated by the Food and Drug Administration. These products are not intended to diagnose, treat, cure or prevent any disease.